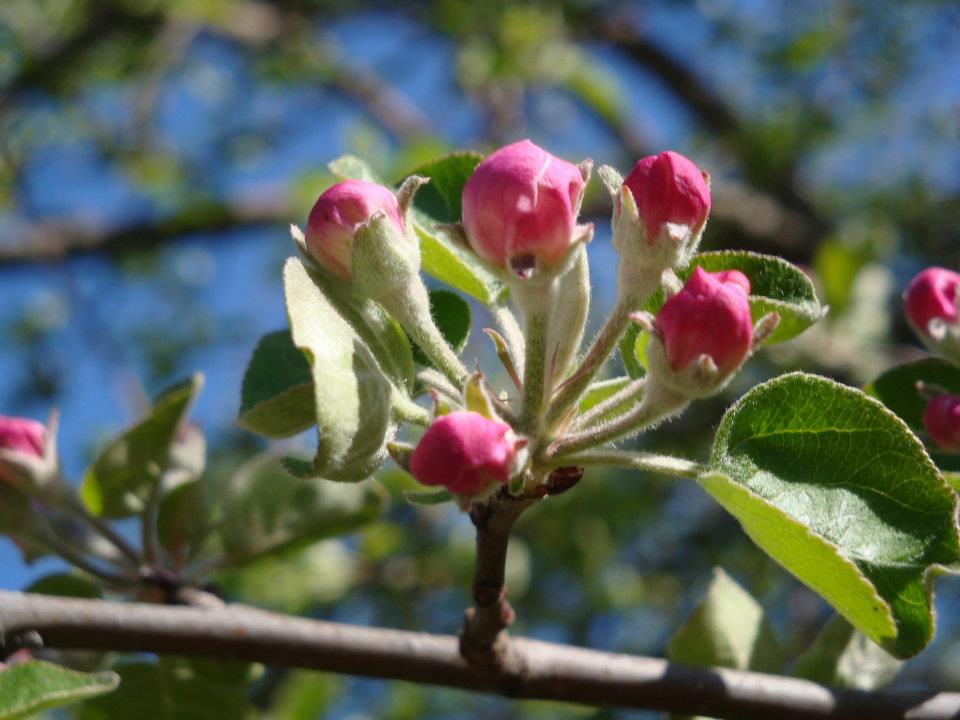 Joy here. Apple blossom time is almost past. After the storms this weekend, the yard, under the trees, looked like it had snowed.
When Jon and I moved into this home five years ago, we had no idea what we were going to do with the apple crop from at least 20 trees. Jon did some research and decided two things:
He was going to care for the trees organically.
 He was going to buy an old-fashioned apple press and make juice.
While talking to his mom about protecting the fruit from bugs, she remembered a recipe she'd heard on a radio show years ago. It works! We can pick apples and eat them immediately – after wiping the dust off on our pants. The kids we love can often be seen with an apple in each hand – they love them.
Here's the recipe:
In a one-gallon  milk jug combine: 1 cup of sugar, 1 cup of vinegar, 1 banana peel, and then fill it half-way to the top with water.
Hang it by the handle in the tree. If the tree produces very sweet apples, hang two jugs.
Over time, the water evaporates. Just add water to the gunk in the jug.
We also use Apple Maggot-fly Traps. They are available at many local plant and tree nurseries and online at many places, including here:  http://eartheasy.com/non-toxic-pest-control/outdoor/non-toxic-apple-maggot-traps
When the apples are ripe, Jon picks from several trees, cleans them, and presses them. We purchased our press here:http://www.happyvalleyranch.com/.
After straining the juice through a cloth, he puts the juice in a clean water jug (1-gallon), at least 1 inch from the top, and freezes it.
When we're ready to drink it, we simply thaw the juice. That's it. We like it best in it's slushy form. It's also delicious warmed up with cinnamon. Once it's past the slushy stage, I love it over crushed ice too. Jon prefers it cold without ice. Each batch is slightly different because of the mix of apples.
The juice can also be turned into the best apple jelly I've ever tasted.
Apple blossom time at our house is beautiful, smells great, and holds the promise of fresh apple juice all year long.
Joy
[tweetthis]Apple Blossom Time #Apples #AppleJuice #OrganicApples[/tweetthis]
If you have any questions regarding your insurance or insurance in Minnesota, please call Jon at 507-226-8121.