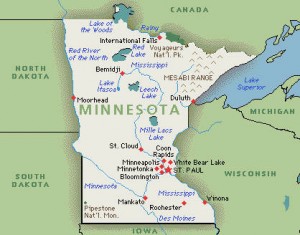 The Mall of America in Bloomington is the size of 78 football fields — 9.5 million square feet.
Minnesota has 90,000 miles of shoreline, more than California, Florida and Hawaii combined.
The stapler was invented in Spring Valley.
The name "Minnesota", was adapted from the Dakota Sioux Indian language. In the Sioux language, "minne" is water, and "sota" is "sky-tinted" or "cloudy sky".
Richard W. Sears, the co-founder and first president of Sears lived in Stewartville, MN.
Some people who were born in MN, or lived here for awhile:
Charles M. Schulz, cartoonist
Bob Dylan, singer and composer
Laura Ingalls Wilder, writer
Judy Garland, singer & actress
Prince, musician, singer, songwriter
Jessican Lange, actress
 F. Scott Fitzgerald, writer
Sinclair Lewis, writer
Jane Russell, actress
3 of the movies filmed in MN:
The Mighty Ducks
Grumpy Old Men
Fargo
Some large companies who are based in MN:
Target
3M
Best Buy
Buffalo Wild Wings
General Mills
Toro
Polaris
Xcel Energy
Anderson Windows
Deluxe (the check people)
The 5 Largest Employers in MN are:
The State of MN
Mayo Clinic
U. S. Federal Government
Target
University of MN
There are so many more interesting and fun facts about Minnesota. Please leave any you know that aren't listed here in the comments section.
Jon
507-226-8121
dekokinsgroup@gmail.com
Serving MN clients for almost 30 years, I specialize in home, auto, umbrella, business, and life insurance.
If you have any questions regarding your insurance or insurance in Minnesota, please call me at 507-226-8121.