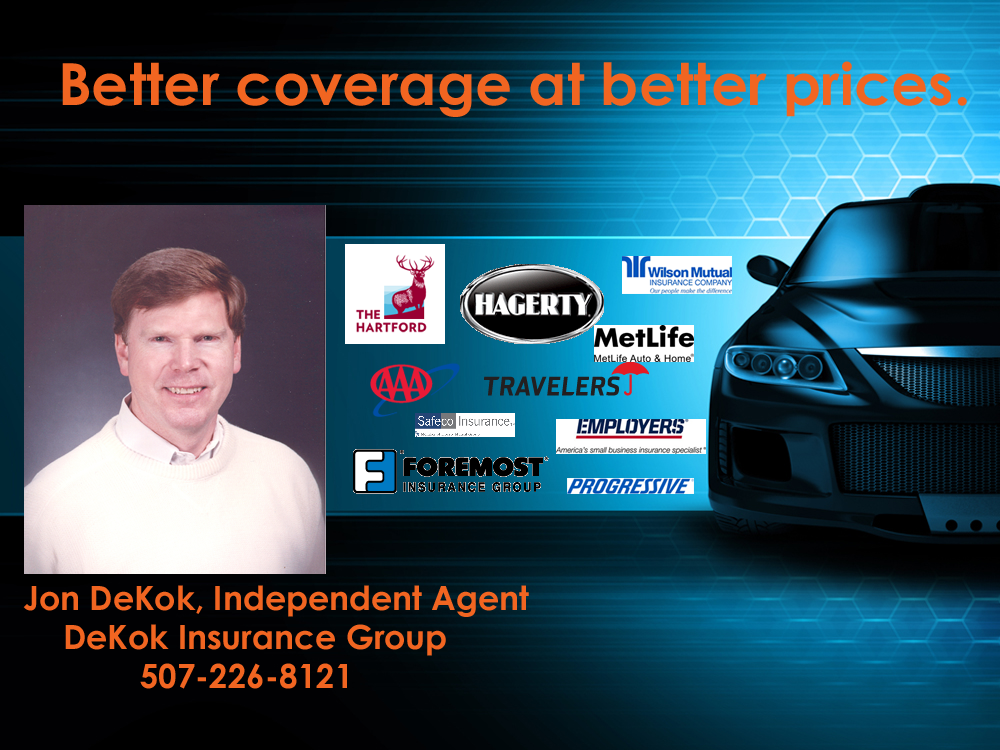 I became an insurance agent in 1981 as a captive agent. I agreed to provide insurance for my customers through one insurance company.  I was successful,  however, there were a lot of times my customers needed some type of coverage which was not available, or the rate was too high.  Also, if the company had a large rate increase, I had no alternative to offer.
I am now an independent agent and owner of DeKok Insurance Group, Inc..  We represent over 12 great insurance companies.  All have some of the highest ratings available. Which means, they are financially strong and treat their policyholders well.
As an independent agent, I am able to take your information and shop my companies for the best rates and coverage's.  
As a customer of DeKok Insurance Group, Inc. you not only have a personal agent who is here for you, but you also have some of the best protection and lowest rates available anywhere at one place.
Some of the policies we write are – Auto Insurance, Homeowners Insurance, Mobil Home Insurance, Rental Dwellings, Boats, ATVs, Motorcycle insurance, Motorhome insurance, Business Auto Insurance and Business Owners policies of all kinds, including Workers Compensation.
Feel free to call, or email us for a quote request! Have a question about insurance in MN? 507-226-8121.
Jon
Better prices. Better coverage.
[tweetthis]Why an independent agent? #Insurance #RochesterMN[/tweetthis]
Serving MN clients for almost 30 years, I specialize in home, auto, umbrella, business, and life insurance.