This isn't going to feel much like an insurance guys blog post. That's because while the story is partly his, he's not telling it. A few weeks ago, we were talking about our dreams for DeKok Insurance Group, Inc. and we realized we needed a clear division of duties so we could serve our clients better. Jon enjoys serving his clients, talking to potential new clients, and giving quotes. For me, Joy, it's about connecting with our clients using this blog, emails, and other social media resources. Sometimes I'll write about insurance stuff. Today? Not so much. Because sometimes serving you means helping you get to know your insurance agent. 
What He Wanted for Christmas …
Most years, getting Christmas presents for Jon is difficult. Don't get me wrong – he's not difficult it's just that he doesn't usually want much, and when he does want something, he usually gets it for himself.
This year, we talked about it and he came up with exactly nothing. Well, okay he did mention an RV, but my Christmas budget wasn't that big! I sat in our living room, pondering my dilemma. This kind of thinking involves coffee, our dogs snuggled in close, and quiet. Sitting there, I saw the perfect gift for him sitting right in front of me.
When Jon's mom passed away just over two years ago, a lovely stained-glass piece she had created became his.When we brought it home, we did what she did – we propped it up on the window sill planning on getting it framed someday. That never happened. I knew the time had come. The thing was, it couldn't be a surprise – this was part of her legacy and only Jon could pick out the right frame. When I told him what I wanted to do, his eyes lit up. Oh yeah – this was it.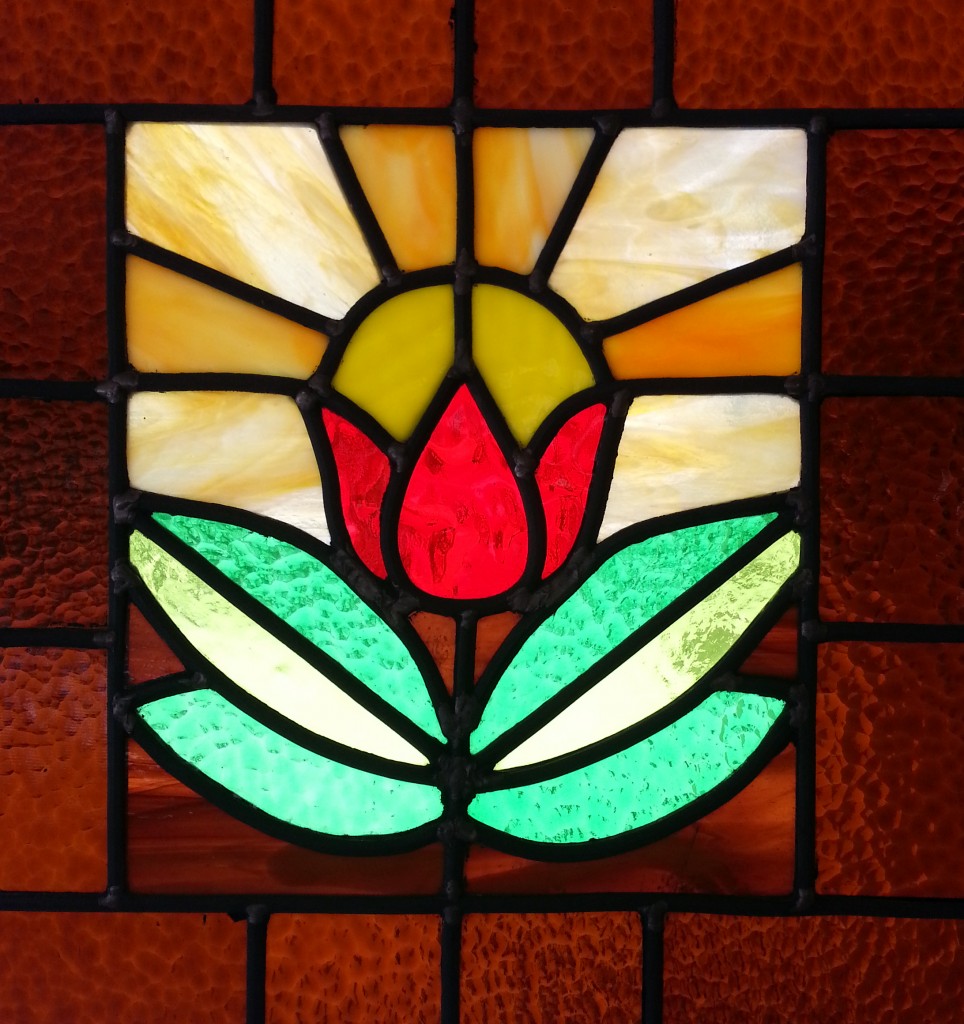 He took his mom's art to the guys at Nigon Woodworks in SE Rochester – because he knows and trusts their work. He told them what he wanted and what wood options he thought would look best. A few days before Christmas I was notified – it was ready. I cannot tell you how much fun it was to pay for this gift. But then there was another problem – there was no way I could wrap it. I should have known better than to worry. Jon saw only the beauty in the stained-glass that was emphasized by the natural maple frame.
Jon hung his mother's masterpiece in the window and we remembered a special time of coffee we had with her at her kitchen table. Mom took a class, then another. She chose the pattern for her second project carefully. The tulip represented Dad's Dutch heritage. The red was his favorite color. The brown was the color of the dirt he so faithfully farmed. And she wanted the sun to look like it was shining. While she talked, she carefully places a few of the pieces she'd already cut on the pattern to show us what she'd accomplished so far. Evidence of the work was all over her hands – tiny cuts were visible, and a deeper one was hidden under a band-aid. There would be more of those before she was done.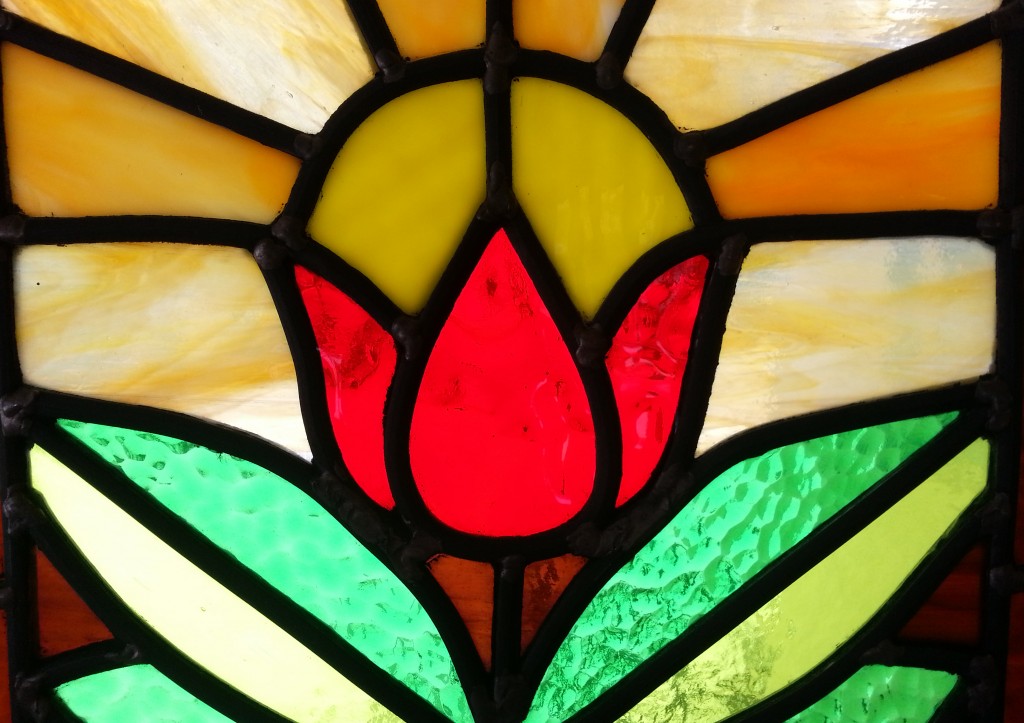 The end result was beautiful, but sitting on the window sill, behind a sheer curtain, it was rarely appreciated – except by the artist and her son Jon who commented on it often and complimented her on its beauty. She would pat his arm in gratitude.
We had no idea how much difference a simple wood frame would make or how beautiful it would be hanging in the window – not just propped up on the sill. Everyday, we enjoy the quiet beauty in the glass. But there's more. Somehow this piece of stained-glass radiates hope into our hearts. We can't explain that to you, but it's there. Maybe in part it's because of what she did for us, especially in the last months of her life; as her hope of a longer life dwindled, and we hung out with her in the nursing home, she did every thing she could to fill our hearts with hope in our faith, marriage, and work.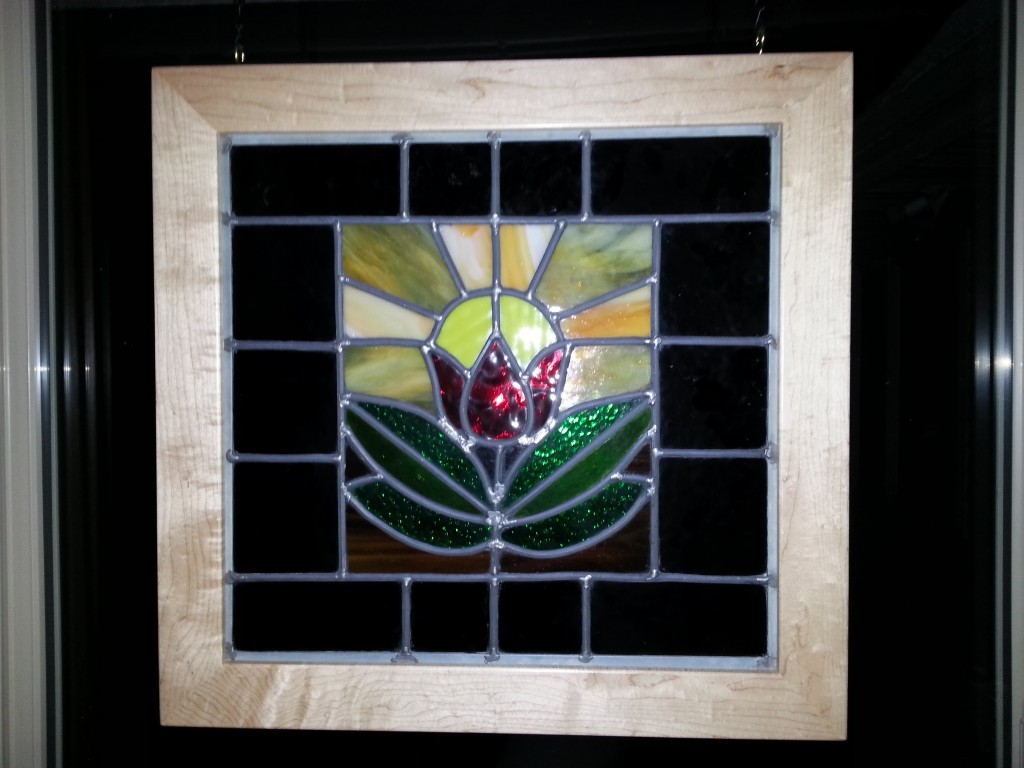 And we're grateful.
We're also thankful for you – our clients and readers. If you have questions about your insurance, give Jon a call at 507-226-8121 or email him at [email protected].
Sincerely from both of us,
Joy
Tell your family members and friends about your positive experience with DeKok Insurance Group, Inc. If they call for a quote and tell us you sent them, YOU will receive a $20 gift card from us.
[tweetthis]Sitting there, I saw the perfect gift for him sitting right in front of me. #Christmas[/tweetthis]
[tweetthis]Oh yeah – this was it. #ChristmasGift #JonDeKok #AMothersLegacy[/tweetthis]